Deze maand besteden we aandacht aan kanker bij hond en kat.  We keken al naar alternatieve geneeswijzen, signalen die je in de gaten kan houden en of honden ook prostaatkanker kunnen krijgen.  In dit laatste artikel dat in teken staat van #movember zoeken we naar een antwoord op de vraag wie er meer kans heeft om kanker te krijgen; je hond of je kat?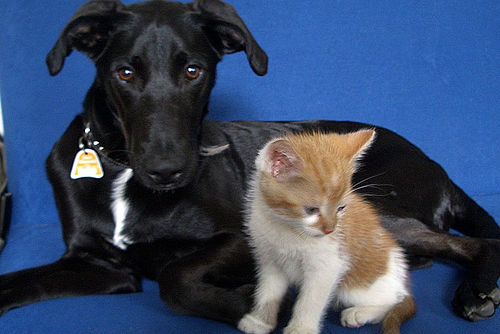 Helaas is het ook bij onze lieve huisgenoten, hond en kat, een veel voorkomende ziekte. Ze worden ook steeds ouder en net zoals bij mensen hebben ze dan meer kans om verschillende vormen van kanker te ontwikkelen. Bij mensen is dat 1 op de 3, bij honden 1 op 4 en bij katten 1 op 5.
Verschillen hond en kat
Een hond heeft dus meer kans om kanker te krijgen, maar bij katten gaat het vaak om een agressievere vorm. Daarnaast is een kat een meester in het verbergen van pijn en wordt daardoor de diagnose pas later vastgesteld.  De kans dat je huisdier aan de ziekte overlijdt als ze ouder dan 10 jaar zijn is bij honden 50% en bij katten 33%.
Rasgebonden
Bij een paar rassen is bekend dat ze meer kans hebben om een bepaalde vorm van kanker te ontwikkelen. Dit wil natuurlijk niet altijd zeggen dat ze daar ook aan overlijden. Bij katten is bekend dat Siamees, Burmees en Manx meer kans hebben. Bij honden zijn dat o.a. de Golden Retriever, Duitse herder, Poedel, Boxer, Rottweiler en Sheltie.  Heb je een rashond, dan kan je op de rashondenwijzer meer informatie bekijken.
Goeie baas
Als baasje kan je natuurlijk ook zelf invloed uitoefenen. Zorg voor goede voeding, ga regelmatig voor een controle naar de dierenarts, laat je huisdier niet te dik worden en let op veranderingen in gedrag, vacht. Meer tips kan je lezen in het artikel 'Top 10 signalen kanker bij honden en katten'.
Bronnen: 1800medpets.com, ac.foundation.org, petcancerawareness.org, pethealth101.com
Anderen lazen ook:
1. Vier songs die beter klinken als een hond ze zingt
2. Waarom de radio aanlaten voor je hond een oplapmiddel is
3. Vijf lessen die jouw hond jou kan leren
Meer Petsie  
Je kan Petsie vinden op Facebook, Twitter, Instagram en natuurlijk onze blog. Maak je gebruik van Twitter of Instagram? Voeg dan #petsie toe aan je bericht en wij zullen de leukste foto's en berichten retweeten!