De Amerikaanse kater Russell overleefde een grote huisbrand en hield er flinke derdegraads brandwonden aan over. Desondanks is hij de ster van het dierenziekenhuis in North Carolina. Hij brengt aan alle opgevangen dieren een troostend bezoekje: van hert tot hond.
Raadsel
Medewerkers van het dierenziekenhuis staan voor een raadsel. ,,De meeste katten zijn heel erg op zichzelf, maar deze wil graag bij andere dieren zijn", aldus medewerker Alan Wilford tegen dierennieuwssite The Dodo. Russell wast de patienten of komt er lekker bij liggen. ,,Hij stopt er niet mee totdat wij hem weghalen."
Rockster
Wilford vertelt verder over hun 'rockster': ,,Russell heeft een zwak voor bepaalde patiëntjes , ik weet niet of hij voelt dat sommigen pijn hebben." De kater zal waarschijnlijk nooit meer de oude worden of door het leven kunnen gaan als huiskat.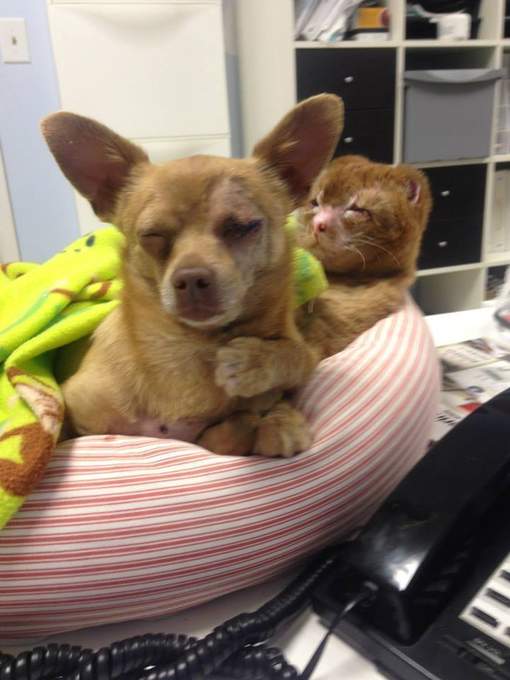 Mascotte
Maar dat is voor het personeel absoluut geen probleem. Als dat het geval is, wordt Russell de nieuwe 'ziekenhuismascotte'. ,,Hij zal hier genoeg liefde krijgen. Hij heeft ons geadopteerd", lacht Wilford. ,,Hij is razend populair, iedereen wil hem zien en knuffelen en hij vindt het allemaal best".
foto: © Animal Emergency Hospital And Urgent Care
Dit artikel verscheen ook in het AD.