Hoe klinkt muziek in de oren van een hond? En zijn er liedjes waar ze van houden en waar ze een hekel aan hebben? We zetten de wetenschap en de ervaringen van baasjes naast elkaar. 
De oren van een hond zijn veel gevoeliger dan die van de mens. Hoge tonen die wij niet horen, zijn voor hen soms oorverdovend. Dat verklaart ook waarom ze soms heel sterk reageren op bijvoorbeeld een stofzuiger. Maar bij muziek speelt meer mee.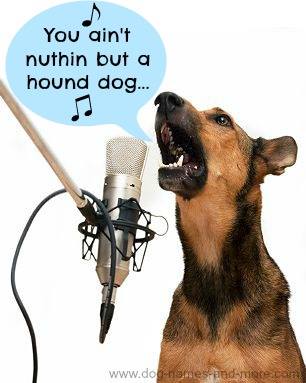 Hartslag
Wat ons vaak aantrekt in muziek is de 'beat'. Die gaat eigenlijk gelijk op met onze hartslag en bij onze viervoeters werkt dat ook zo. Charles Snowdon deed uitgebreid onderzoek bij apen, katten en honden. Bij honden is er iets grappigs aan de hand. De hartslag van een chihuahua en die van een Deense Dog liggen ver uit elkaar en dus houden ze ook van andere muziek. Snowdon heeft samen met een componist David Teie muziek gemaakt speciaal voor katten en ze werken nu aan muziek voor honden. Wij zijn benieuwd wat de hit wordt voor de bulldogs en de poedels.
Genres
Toch hebben de meeste honden een bepaalde voorkeur en dat laten ze weten door te janken of lekker gaan te slapen. Dat heeft onderzoeker Deborah Wells uitgezocht. Klassieke muziek vindt de gemiddelde hond rustgevend, maar van heavy metal gaan ze blaffen en janken. Of dat nou aan het zingen of aan de muziek ligt?
Herkennen
Apen kunnen wel een rijtje noten herkennen, ontdekte Charles Snowdon. Maar als je hetzelfde deuntje in een andere toonhoogte liet horen herkenden de apen het niet meer. Waarschijnlijk is dat bij je hond ook zo.
Hitserie
De begintune van de  Amerikaanse serie 'Law en Order' levert een filmpjes op youtube op van verbijsterde baasjes. Honden in alle formaten blaffen, janken en huilen. Deze compilatie liegt er niet om:
Maar ook 'Happy Birthday' zingen voor je hond is geen succes.
Ben je muzikaal aangelegd en speel je gitaar? Dan zou je je hond misschien wel een plezier kunnen doen.
Heb jij een filmpje van je hond die naar muziek luistert? Stuur hem dan snel naar info@petsie.nl
Bronnen: eartech.nl en livescience.com
Anderen lazen ook:
1. Vier songs die beter klinken als een hond ze zingt
2. Waarom de radio aanlaten voor je hond een oplapmiddel is
3. Vijf lessen die jouw hond jou kan leren
Meer Petsie  
Je kan Petsie vinden op Facebook, Twitter, Instagram en natuurlijk onze blog. Maak je gebruik van Twitter of Instagram? Voeg dan #petsie toe aan je bericht en wij zullen de leukste foto's en berichten retweeten!